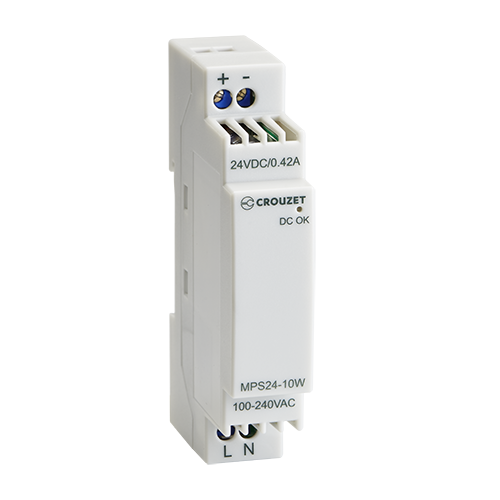 Click the image to zoom
NEW PRODUCT
Modular power supply 10W, 100-240 VAC/24 VDC, 0.4 A
Modular power supply 10W, 100-240 VAC/24 VDC, 0.4 A
Media & Documents
---
Product info

Product key features, technical specs, technical schemas and more.

Guides

User Guides, Notices and more.

Certifications

RoHS Approval, EU Declaration, ATEX Conformity and more.

Media Kit

High Resolution pictures, Arguments and more.
Distributors Stock Check
---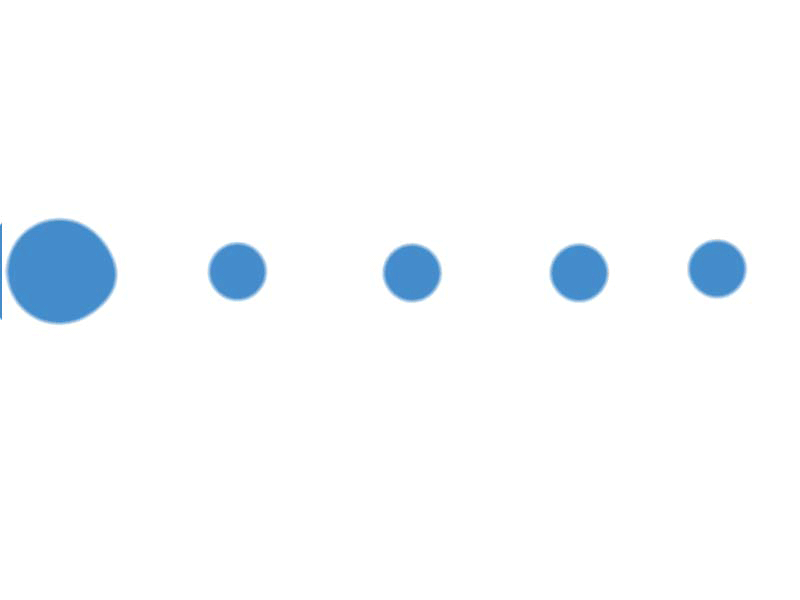 Checking stock arround the globe
Product Description
---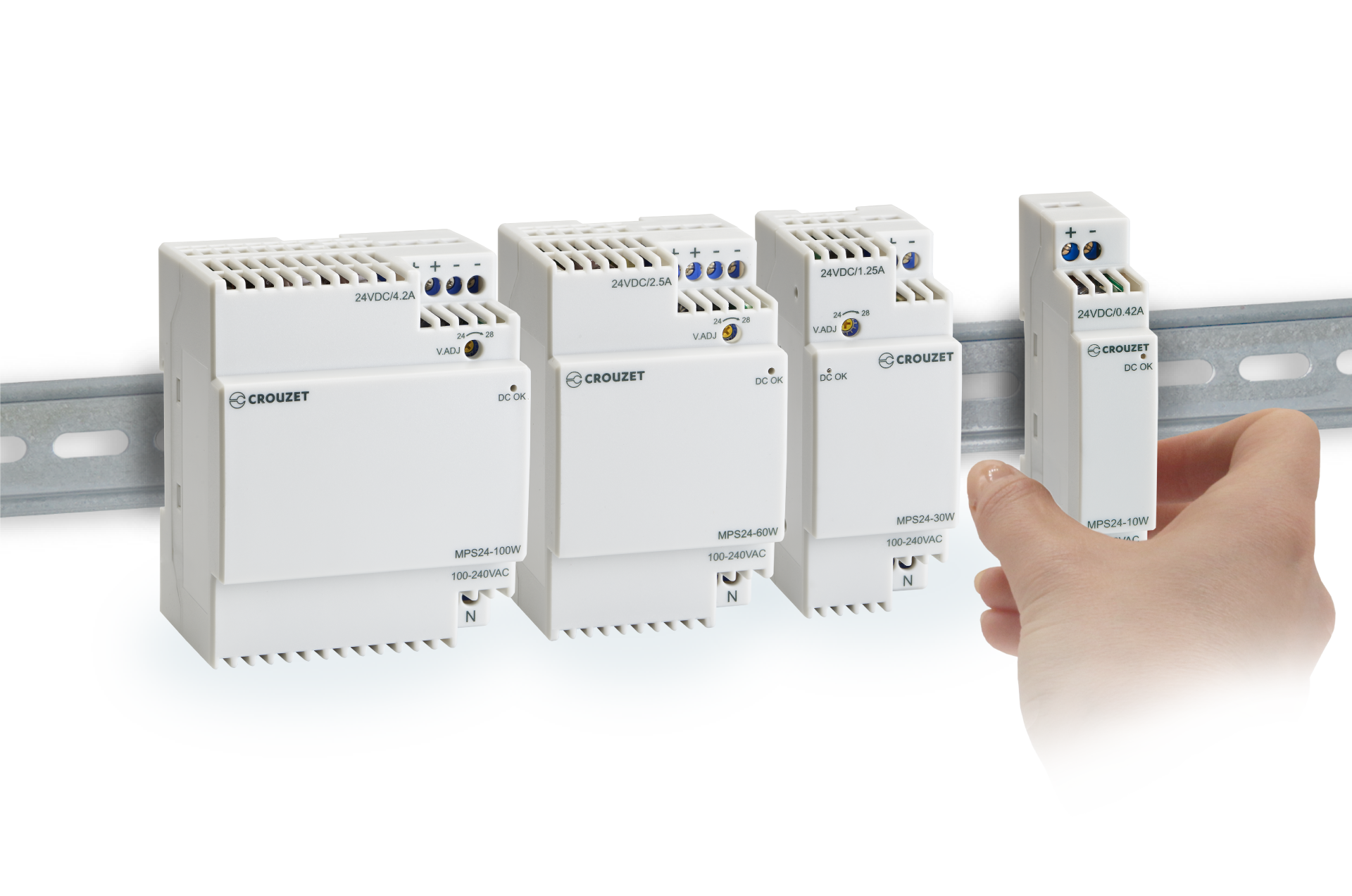 Crouzet is presenting the new generation of 24V power supplies. This new family of product has been designed to fit into a very wide range of industrial applications, and into the panels of the most common building applications. This range is perfectly suited to be used with all Crouzet 24 VDC products. Ideally convenient for their use in distribution panels thanks to its DIN rail mounting.
Smaller Size
Space in the panel is more important every day to fit a higher quantity of products to have complex applications, and that's why the next generation of Crouzet's compact family of power supplies are 1 module thinner (the equivalent of 17.5mm or 0.69 inches) in every version. With 4 products that goes from 10 to 100W and their wide voltage input ranges (from 84 to 264 VAC), they allow the supply of single-phase mains electric power to DC power lines requiring 24V DC in a very reliable way.
Better Performance
These DIN Rail mount power supplies have an increased Energy efficiency up to 90% at 240VAC and Low No-Load Power Consumption. In addition, thanks to the new terminal position, as well as double insulation and a Class II safety input, simplifies wiring of the product and earthing is no longer necessary. In the same way, the NEC Class 2 standard, in accordance with UL1310, allows operation in cases where output currents must be limited under fault conditions.
Technical Specifications
---
| | |
| --- | --- |
| Voltage type of supply voltage | AC |
| 1st secondary output voltage at DC | 24 |
| Max. output current 1 | 0.42 |
| Secondary voltage adjustable | False |
| Short-circuit-proof | True |
| Rated supply voltage at AC 50 Hz | 24 |
| Rated supply voltage at AC 60 Hz | 24 |
| Output voltage stabilized | True |
| Power output | 10 |
| Stabilized | True |
| Type of electric connection | Screw connection |
| Rail mounting possible | True |
| Wall mounting possible | True |
| Modular version | True |
| Built-in height | 94 |
| Direct mounting possible | True |
| Width | 90 |
| Height | 18 |
| Depth | 55.6 |
| Suitable for safety functions | True |
| SIL according to IEC 61508 | None |
| Performance level acc. EN ISO 13849-1 | None |
| Degree of protection (IP) | IP20 |
| Degree of protection (NEMA) | 1 |
Related Products
---
Nano PLC > em4
em4 Nano-PLC Local, B26 Demo Box, 26 I/O, 24 VDC
88980180
---