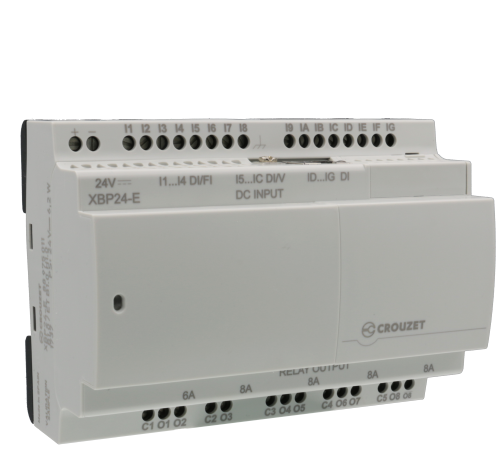 Click the image to zoom

Milleniumevo Ethernet Smart Relay, 24 Vdc, 16 Digital Inputs (8 Analog-4 High Speed), 8 Relays Digital Outputs, Datalog, Event, Ftp, Free Soft, Mem. 1024 Blocs, Specific Fbd, 32 Bits Management, Modbus Rs485, Bluetooth/Virtual Display Opt.
Media & Documents
---
Product info

Product key features, technical specs, technical schemas and more.

Guides

User Guides, Notices and more.

Certifications

RoHS Approval, EU Declaration, ATEX Conformity and more.

Media Kit

High Resolution pictures, Arguments and more.
Distributors Stock Check
---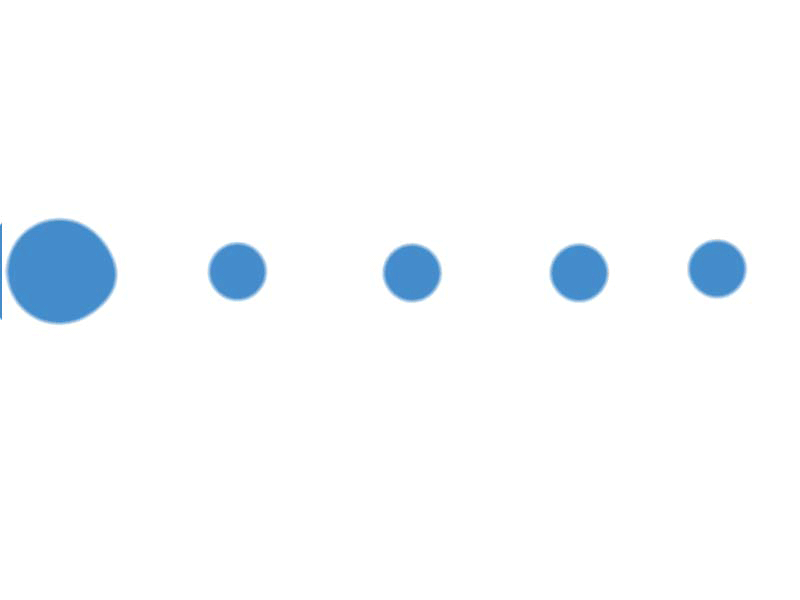 Checking stock arround the globe
Product Description
---
Millenium EVO - the communicating logic controller for all your small-scale automation projects.
With its 4 ways of communication: Ethernet, Modbus, USB and Bluetooth, you can control and program EVO from a distance, continuously monitor your applications, and interact with other devices.
Control your EVO from a distance and in real time, by accessing its front control face from your PC, laptop, or mobile device. You can change the parameters with the Crouzet Virtual Display app, eliminating the added cost of an HMI. You can also edit and program your EVO even when already installed in your application, without the need to remove it or disconnect a single cable.
Monitor your applications and receive periodic datalogs to measure and record key parameters of your installation, as well as program regular email notifications for updates and alarms. You can also interact with other devices such as HMIs, drives, and other controllers via Modbus and ethernet, as the EVO can act as a slave inside your network.
Millenium EVO is equipped with 16 inputs which include digital, high speed counting, voltmeter, and many analog voltage inputs. Inputs for NTC temperature probes, which allow you to connect probes directly without the need of expensive signal convertors, are also available. Millenium EVO is expandable up to 44 I/Os.
EVO's programming is made to be simple, with visual programming and a vast range of pre-programmed function blocks to drag and drop into your application. This new version of Crouzet Soft is the most intuitive and easiest to use software, even for first-time users. In addition to the pre-programmed function blocks, it has twice as much memory capacity as standard logic controllers - up to 1000 function blocks. EVO also has ready to configure communication protocols, supports complex data processing with its 32-bit capacity, allows you to combine function block and SFC programming, and helps you to organize your program with custom icons, images and text comments. You can create your own macros or use pre-programmed application blocks.
Give the software a try now, and download it for FREE to start creating, simulating and debugging your program, even before you receive the product!
Need even more? Millenium EVO and Crouzet Software are fully customizable. Crouzet's Customer Adaptation Center is available to support OEMs with large volume automation projects where an adapted or customized solution will save money and/or enhance functionality. Crouzet can match your specific requirements and provide the solution you need.
Video Presentation
---
Technical Specifications
---
| | |
| --- | --- |
| Appendant operation agent (Ex ia) | false |
| Appendant operation agent (Ex ib) | false |
| Basic device | true |
| Category according to EN 954-1 | None |
| Degree of protection (IP) | IP40 |
| Depth | 61,1 |
| Expandable | true |
| Expansion device | false |
| Explosion safety category for dust | None |
| Explosion safety category for gas | None |
| Front build in possible | true |
| Height | 90 |
| IO link master | false |
| Number of analogue inputs | 8 |
| Number of digital inputs | 16 |
| Number of digital outputs | 8 |
| Number of HW-interfaces industrial Ethernet | 1 |
| Number of HW-interfaces other | 1 |
| Number of HW-interfaces RS-485 | 1 |
| Number of HW-interfaces USB | 1 |
| Number of HW-interfaces Wireless | 1 |
| Performance level acc. EN ISO 13849-1 | None |
| Rack-assembly possible | false |
| Radio standard Bluetooth | true |
| Radio standard GPRS | false |
| Radio standard GSM | false |
| Radio standard UMTS | false |
| Radio standard WLAN 802.11 | false |
| Rail mounting possible | true |
| Redundancy | false |
| SIL according to IEC 61508 | None |
| Suitable for safety functions | false |
| Supply voltage DC | 24 VDC (-15% / +20%) |
| Supporting protocol for AS-Interface Safety at Work | false |
| Supporting protocol for ASI | false |
| Supporting protocol for CAN | false |
| Supporting protocol for Data-Highway | false |
| Supporting protocol for DeviceNet | false |
| Supporting protocol for DeviceNet Safety | false |
| Supporting protocol for EtherNet/IP | true |
| Supporting protocol for Foundation Fieldbus | false |
| Supporting protocol for INTERBUS | false |
| Supporting protocol for INTERBUS-Safety | false |
| Supporting protocol for KNX | false |
| Supporting protocol for LON | false |
| Supporting protocol for MODBUS | true |
| Supporting protocol for other bus systems | false |
| Supporting protocol for PROFIBUS | false |
| Supporting protocol for PROFINET CBA | false |
| Supporting protocol for PROFINET IO | false |
| Supporting protocol for PROFIsafe | false |
| Supporting protocol for SafetyBUS p | false |
| Supporting protocol for SERCOS | false |
| Supporting protocol for SUCONET | false |
| Supporting protocol for TCP/IP | true |
| Switching current | 8 |
| Voltage type of supply voltage | DC |
| Wall mounting/direct mounting | true |
| Width | 124.6 |
| With display | false |
| With optical interface | false |
| With relay output | true |
| With timer | true |
---